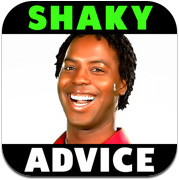 A new App called Shaky Advice from SAMWELL!
This highly rated App is similar to the Magic 8 Ball toy and features the one and only Samwell offering advice to your Yes or No questions. Shake your device to see and hear over 30 video answers from Samwell himself!
"If you're a Samwell fan, this is the app for you."
— Paul Hughes, CNET
Click HERE to buy the App from iTunes for only 99 cents!
Or just search for "Samwell" at the App Store on your phone!
Life is full of questions and sometimes you need a little advice along the way!
Should you ask your crush out on a date?
Will you get that promotion at work?
Should you buy that house?
Is your team going to win?
Should you eat pizza for lunch?
You're sure to get tons of laughs out of this App! Show your family and friends! You'll be amazed by how much fun Shaky Advice can be!